Overview
Email reminders are a great way to keep your customers engaged and informed, and to also keep your list updated and accurate.
When turned on, your customers will be sent an email on a periodic basis to remind them that they are still on your list. The content of this email is fully customizable, and can include links for your customers to confirm their interest, remove themselves from the list, and/or visit their portal page to see their status.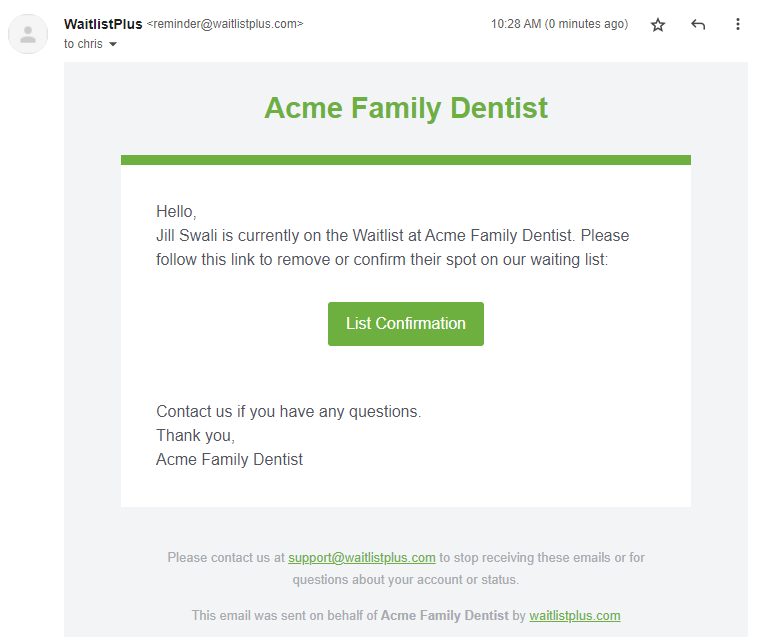 Setup
Go to Settings > Site Settings > Reminders. Below is an overview of what each of the fields on this page does.
Active – The Active checkbox will turn this feature on and start sending emails within 24 hours.
Frequency – The number of months between the sending of email reminders. See below for detail on when an email is sent.
Customization
As covered in the Email Content help doc, you can fully customize the Subject and Body of your email. There is one placeholder that you should be aware of for Reminder Emails, the Confirm placeholder.
The Confirm placeholder provides a link or button for your customer to click on that takes them to your portal. There they can Confirm their spot on the list, or Remove themselves from the list.
The placeholder for a button is <confirm-button>. Alternatively, if you would rather have a text link that takes them to the same place, you can use <confirm-link>.
FAQ
When are emails sent?
The first reminder email will be sent out based on the Added Date of the customer and the interval you have set. The next emails will be sent based on the send date of the previous reminder email and the interval you have specified.
Example Scenario:
In this example, we activated this feature on June 1, and set the Frequency to 3 months
| | | | | |
| --- | --- | --- | --- | --- |
| Person | List Added Date | First Email Sent | Second Email Sent | Notes |
| Jack | January 1 | June 1 | September 1 | Reminder sent today because this person has already been on the list for 3 months |
| Jill | February 4 | June 1 | September 1 | Even though they were added at different dates. Jack and Jill will be on the same schedule. Since they both start today. |
| Bob | March 9 | June 9 | September 9 | Bob will get his first email in a few days as he has not been on the list for 3 months yet |
| Betsy | April 11 | July 11 | October 11 | |
If you have people on the list who have been on for a while they may all get an email right away when you turn this feature on. If they have been on the list for longer than your frequency, they will all get an email within 24 hours of making this feature active.
Can I set the frequency to less than 1 month?
Unfortunately not. One month is the minimum frequency. WaitlistPlus is a long-term waiting list solution and most customers are on the waitlist for many months or years. Getting frequent emails over a long period of time could be a frustrating experience for customers.
In addition to a better user experience, we also need to protect email deliverability. Sending emails too frequently can trigger SPAM complaints, and can lead to future emails being blocked.